"A judge must be independent and must interpret the law, not make the law."– Brett Kavanaugh
Brett Michael Kavanaugh is an American attorney and jurist who serves as a United States Circuit Judge of the United States Court of Appeals for the District of Columbia Circuit.
President Donald Trump nominated Kavanaugh on July 9, 2018 to replace the retiring Associate Supreme Court Justice Anthony Kennedy. During the confirmation process, Christine Blasey Ford accused him of having sexually assaulted her in the early 1980s. He denied all the allegations. And by the latest reports, the FBI has found "no corroboration" of sexual misconduct allegations against him.
We used our social media management software, myRosys, to analyze social media conversations around the nominations of Brett Kavanaugh and analyzed the user sentiments. Here are our findings:
Word Cloud – It shows the prominent keywords used on various social media platforms related to the nomination of Brett Kavanaugh. We discovered that "Brett",  "Nominations," "Supreme" and "Politics" were used most prominently on social media platforms.

Sentiment Analysis: Analysis of the posts shows a neutral sentiment of users, whereas word sentiment analysis shows a negative sentiment.
Top Liked Posts: Posts on Twitter got the largest number of likes and engagement by the users.
Top Retweeted posts: Top retweeted posts show that the people on social media are unhappy about Brett's nomination.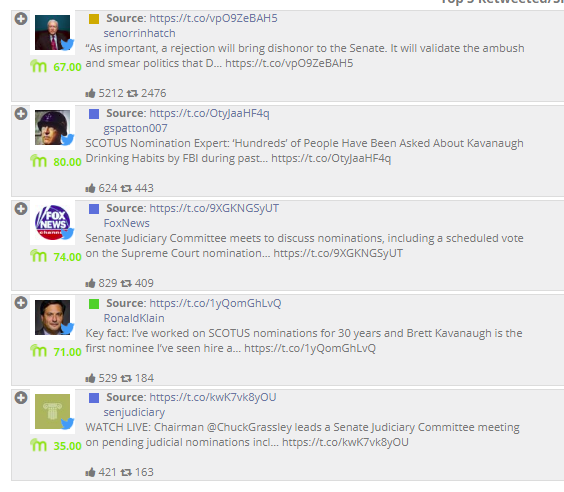 As per the U.S president Trump, there is no one in America more qualified for this position, and no one more deserving. However, based on our analysis of comments on social media, people seem to disagree.  Even though this nomination has polarized the nation, all the indications point towards Brett Kavanaugh getting confirmed.